Our Garage Door Repairs & Service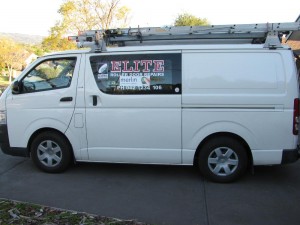 Elite Roller Door Repairs is an owner operated business so we don't use contractors, you talk directly  to the man who will fix and service your garage door. So far as possible same day service is available –  especially for emergencies.  Call us you never know we may be around the corner!
We carry a large range of parts, and a simple phone call will allow us to determine which  parts you need, without you having to pay for an onsite inspection. If  your budget is tight we can do the work with second hand parts.
Repair Service
With over 30,000 garage doors serviced, ( that's right 30 thousand) we have the experience to diagnose and fix your problem garage door, whether it is a threatening to break down or just not working at all.

Specialists in spring replacement
Service of your door opener is included
We love to cure problem doors!
All our work is guaranteed

90 day warranty on labour and parts 90 day warranty on secondhand parts 1-2 year warranty on automatic door openers 5 year warranty on new motors

Authorised  Gliderol service technician and supplier
Merlin garage door distributor
Convert to  Automatic Garage Door
If you're sick of wrestling with  your garage door, we can convert it to an automatic for you.  Panel, tilt and roller garage doors in  good condition can all be converted easily -of course, we will have to inspect your door first but that's FREE so give us a call and live a little easier.
Free door inspection
Free quote
We will be honest if your door is not in a condition to be converted
Maintenance Servicing
No one wants to spend money unnecessarily but a bit of maintenance can save  you heaps in the long run.  Don't Ignore creaking and groaning or slow reactions from your garage door. A service call may well avert a broken spring or belt drive.
Whatever you do DON'T GREASE YOUR ROLLER DOOR!
or click for a